Here are a few pictures that I managed to collect after hours of exhausting surfing on the Internet. After all that I have just come up with around half a dozen. This indicates the lack of coverage of Indian football. The best thing AIFF can do is begin proper telivision coverage. If you have adequate coverage of the football matches on T.V., there will be more people interested in the game. This way you will have football magazines, posters, postcards, and even teams being produced quickly. So here go the pictures:
Note: If anyone can manage to get some pictures, that would be a big favour.

FC Kochi Moments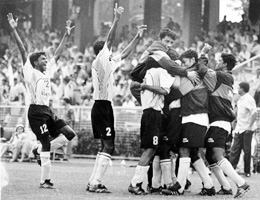 FC Kochi celebrate their hard earned 3-1 victory over Mohun Bagan in the Durand Cup Finals.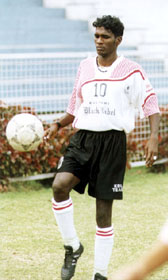 FC Kochi former super-star I.M. Vijayan practicing his driblling tricks.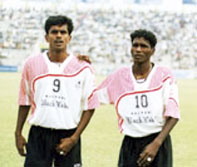 Raman Vijayan and I.M. Vijayan, the deadly combination.
(Former players)
These are the pictures that I have for the time being. I promise to keep adding pictures. I only hope I can do that.
The Unofficial FC Kochi Page